FAREWELL TO ALL MY OLD TEAM MATES
Today.. rase sedih sesgt .. tah lah mungkin sbb t'ingat kisah yg lama kot...
Fare well..... to all my old team mates.aku masuk maxis dulu aku join kak mariah .. then to Calvin.. then to sham .. back to calvin... then to alagamah.. and last to yesu....Gmbr nie dieorg ambik masa ngan team MILESTONE.Our sifu was " Ms Alagamah Krishnan.." She's more than a mummy and not boss at all. She will care to you macam anak die sendiri.Nie pun gambar yang kiteorg ambik tak complete
team mates: Reena, mani, siti, thilaga, aku ,ms alagamah, zal..mimi,jonathan periasamy and april. not in the pic: tabetha, poobalan,shazrin, omar......
team nie mmg caring... masa aku tgh pregnant dulu.. leaps abis keje mesti lepak sunway pyramid jst nak temankan aku mkn fast food.. sian kat tabetha ngan mimi.. pas2 si siti nie x abis ngan bf.. dia ada aje issue. si thilaga senyap orgnya tapi uka mulut abislah .. april ..mmg bbdk pun..still studying,, die kalau goreng cust aku mesti nak ketawa.. Reena masih ada lagi kat MAXIS sama ngan Mani.. Zal last skali aku dgr hari 2 msk digi ,, die nie kalu korang tgk pic pun korang tahu perangai camne die yg last s'kali
MILESTONE EX-TEAM MATE
Last team I was b4 joining to KLCC MMCC is supreme power. this is all the team mates.. I managed to get all of them to join along with also Chai Ping to come along.. this was the only last and ever farewell party tht they throwed to me .. by rite it was supposed to have only mkn2 party as our team won some CSI /others on the year end party... since I'm leaving they proceed with farewell party..
Team mate aku : bala, zain , kuna, shirleen,saufi, thina, raj,Vanita, manmeet , makes and of course the boss Yesu..
I did miss the team mate as they all nie bolih katakan sporting jugak.. tapi x setanding calvin and and milestone team...
SUPREME EX TEAM MATES
this is one is a litt.special as this is my buddy which I'm still in touch even we are in the differ dept already.
the only one is Yogitha.. now die kat TTDI ctr.. I was suppose to trf there tp die yg dapat ... nak uat camne bkn rezeki aku kot..
YOGITHA EX TEAM MATES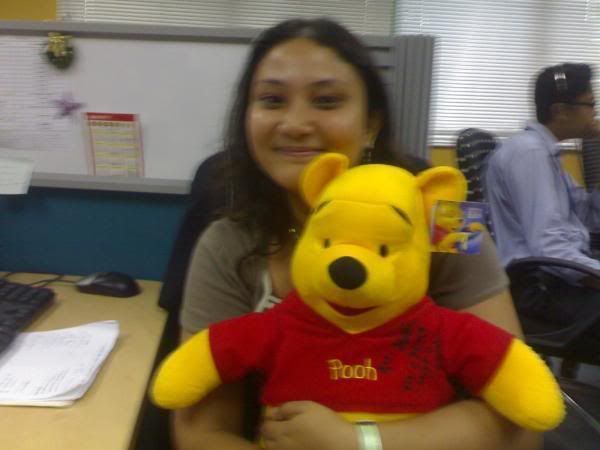 We will continue the story later K